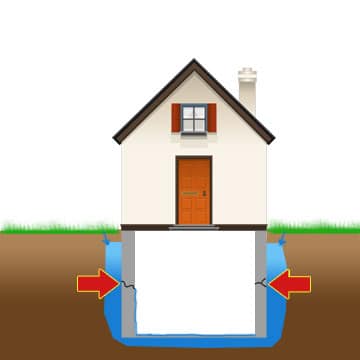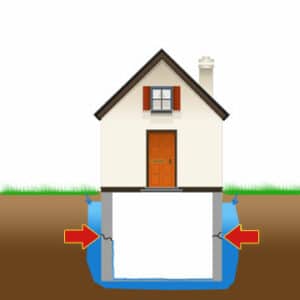 Concrete walls become stressed when soil expansion (hydrostatic pressure) places tremendous force against basement or crawl space walls. Bowed walls should be fixed as soon as possible – when cracks appear, structural integrity is compromised. This problem must be addressed quickly to avoid the expense of wall replacement or the possibility of total structural failure. Correcting bowed walls is one essential part of foundation repair.
Hydrostatic Pressure
As it accumulates during rainy months, water exerts an extremely high pressure on your home's foundation walls. In case an excess hydrostatic pressure isn't identified before it is too late it might result in disastrous failures. Although collapsing of foundation walls is not very likely, hydrostatic pressure is powerful enough to easily bow your basement walls inwards compromising structural integrity of your house. Besides buckling and bowing walls there are other symptoms of your foundation structural failure such as growing cracks in the walls and floors, cracked mortar joints, windows and doors hard to open or close, chimney pulling away from your home.
Unfortunately, it is nearly impossible to completely stop hydrostatic pressure, but there are multiple ways to diminish its negative effects. After your basement walls are straightened we suggest waterproofing and sealing your basement or crawl space, installing a sump pump, properly grading your yard.
At PEP Waterproofing we offer several proven solutions to repair your basement bowed and buckling walls. Depending on your specific case we can install carbon fiber straps, wall stabilizers, or wall anchors.
Whether you are experiencing settling foundations, bowed or cracked basement walls, cracks in drywall, sagging floor joists or have a home built on unsuitable foundation soils, PEP Waterproofing can fix foundation issues by using our experience and knowledge regarding Missouri area soils, and exclusive patented foundation repair products. We frequently work with professional engineers to ensure your foundation repair is properly taken care of.
Contact PEP Waterproofing today.