Probably you already know what type of basement your home has. However, there might be things you haven't yet considered. It is pretty often that crawl spaces don't have no floors, other than soil. Also, the walls are usually made of porous concrete that allows moisture and water vapor to enter, and creates the perfect conditions for mold to grow and nasty pests to dwell.
Crawl space repair and encapsulation will help keep it dry and the whole home healthy. How do you know if you need repairs though? Please click a button below to learn about some indicators of an unhealthy crawl space in.
How Do We Repair a Crawl Space
Our experts at PEP Waterproofing have decades of experience dealing with wet and leaky conditions. We can help you to seal it so you won't need to worry about humidity, bad odors, mold spores, allergens, insects and critters coming to your home. Also, encapsulation will help you to save on utility bills. We offer a variety of repair solutions and products. Please take a look at them by clicking the button below.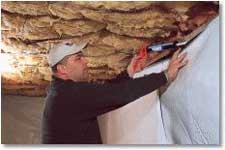 Contact Us
If you noticed any symptoms of a wet and moldy crawl space don't hesitate to contact us as soon as possible before it's too late. If ignored the issues might lead to more dangerous problems, sometimes even the catastrophic ones. You can reach us at 573-635-2210 or by filling out our simple online form.