Wet Basement Waterproofing
Your basement plays a crucial role in the health of your home. At PEP Waterproofing we specialize in wet basement waterproofing. Making your home dry and mold free will increase your living space and make your family healthier. It will also provide you peace of mind that your basement won't flood each time it rains.
PEP Waterproofing & Foundation Repair has been providing patented solutions to basement waterproofing problems in Central and Southwestern Missouri for years. Finding a responsible and trustworthy contractor is challenging. You can relax knowing PEP Waterproofing & Foundation Repair has the experience to do the job right the first time.
The Clay Bowl Concept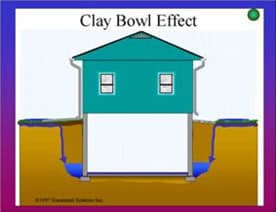 When your foundation is built into the soil, it creates a permanent void that water is constantly trying to refill, whether that is your crawl space or your basement. Whenever the earth becomes saturated, water will run into the walls of your foundation and enter your basement by force of hydrostatic pressure or find ways of seeping in through cracks or pipe holes.
This water pressure will occur during prolonged heavy rains despite your best efforts to keep ground water away from your home. That is why extending downspouts, building up the grade, caulking driveway cracks, and even adding room addition slabs may mitigate the amount of seepage you receive, but won't solve the problem.
You can find the most common reasons of water in your basement or crawl space by clicking the button below.
How to Waterproof Your Basement
Water is a common problem in all types of basements – from foundations with poured concrete to stone to block. We have provided drying solutions to thousands of each type of foundation!
Fixing a wet basement isn't something you should try to do on your own – it is a dangerous, specialized job that requires specific equipment. You can learn what is causing the moisture problem in your basement – and you should – you want to be able to hire a contractor that completes the work that is important for your home. PEP Waterproofing is a certified contractor and we have years of experience.
At PEP Waterproofing we provide Missouri homeowners with several effective solutions to waterproof their basements or crawl spaces. The solutions include but not limited to:
Having a dry basement will:
Keep your investment safe
Increase your living area
Please contact us today to schedule a free consultation and written repair estimate.