Concrete Leveling and Lifting
At PEP Waterproofing we provide affordable concrete leveling and lifting services for Central Missouri homeowners having problems with sunken concrete slab structures. Our services application include driveways, sidewalks, concrete patios, concrete steps, garage and basement floors. In most cases, it is much more cost effective than complete slab replacement, and can be completed in few hours.
Concrete slab settlement generally is associated with soil consolidation whilst the factors of soil to erode are quite different. Soil shrinkage, compaction, and settlement, unproper drainage are impacting your concrete slabs. Read about the top causes for concrete to sink by clicking a button below.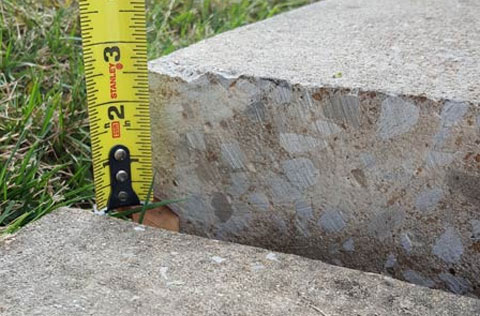 Our Approach for Concrete Leveling
Our concrete repair experts have leveled miles and miles of sunken concrete slabs. We have tried many different ways of leveling settling concrete, and ended up with a concrete lifting method that works great in the most scenarios. The method is called mudjacking, and it's a great alternative to a concrete slab replacement. For more information about mudjacking please click the button below.
Contact Us
For any question about the concrete services PEP Waterproofing provides, or to schedule on-site inspection and a free estimate please call us at 573-635-2210 or fill our simple online form.