Wall Braces for Bowed Wall Repair
At PEP Waterproofing we are 100% committed to finding the best solutions for fixing bowed or buckling basemenent walls. Our primary goal is to avoid such costly and invasive measures as excavation or jackhammering, and at the same time provide Missouri homeowners with a permanent fix for their foundation wall issues. To determine what repair method is best for your particular situation, we offer a free inspection by certified and well trained foundation experts on our staff. After careful analysis, we'll make our recommendation for the type of foundation repair you will find satisfactory.
Decades of experience and thoughtful analysis have resulted in choosing yet different in nature but the most technologically advanced and reliable bowed wall repair methods.
The Reinforcer® Carbon Fiber Straps
The Reinforcer® is a patented carbon fiber system and was developed by professional engineers. Its amazing strength, combined with its subtle appearance, makes it the perfect option for bowing wall repairs. The product not only offers tremendous strength, it also is lasting in nature. The system secures a foundation wall movement, and preverts any further wall decay. Once installed, you can paint over the strips and blend them into the existing color palette.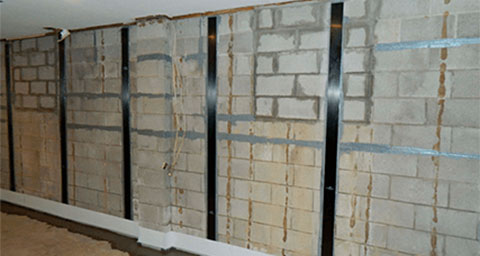 Product Overview
The Reinforcer® is the successful blend of modern, aero-space polymers and carbon fiber manufactured into a material which is nearly impossible to elongate (stretch). Amazingly, the Reinforcer carbon fiber plate (strap) is eight to ten times more stretch-resistant than steel! The Reinforcer is a 4-inch wide carbon fiber repair plate, bonded with structural epoxy (ECS104), and it is designed to stabilize and support masonry foundation walls. Once the Reinforcer is applied to the basement wall, it stops the wall from bowing further as it counteracts the outside pressure being applied and increases the strength of the wall by applying the equal and opposite force against it. The Reinforcer is ideal for repairing bowing, cracking, expanding and buckling walls.
Key Benefits
Modern technology that will last over time
Foundation or basement wall stabilization
No expensive or heavy equipment needed
Thin as a dime – only .045″ thick
10 times stronger than steel
Subtle appearance – virtually unnoticeable
Material is non-corrosive & non-flammable
The Force™ Wall Stabilizer
The Force™ Bracket is a patented structural tension-loaded wall repair system that utilizes steel I-beams to straighten block or concrete walls. The Force can stabilize foundation walls where carbon fiber is no longer an option. The system key is the unique patented spring-coil design applying 1,000 pounds of constant corrective pressure against the foundation wall. The Force springs are straigthening the basement walls whether they are being pulled outwatds by compacting soil or pushed inwards by expanding one.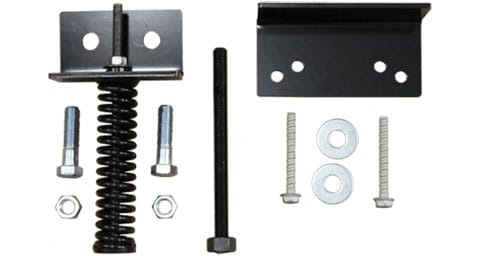 Product Overview
The Force™ is a patented wall stabilizer that is used to bring bowing or buckling foundation walls back into place. This system utilizes two concrete anchors on the bottom bracket of the steel I-beam, and the tension-loaded spring system anchors at the top. The system is able to withstand thousands of pounds of continuous pressure and automatically adjusts itself as the foundation wall that is bowed or buckled corrects its position. Self-sustaining, cost effective and maintenance free, The Force is the most modern wall straightening system available on the market for correcting a foundation wall that is failing.
Key Benefits
Permanent solution for bowed foundation walls
Works very well in all types of soil conditions
Self-adjusting spring coil design
Straighten poured or block walls
Maintenance Free